Vecima's Entra R-PHY Monitor Wins 4 Diamonds in BTR 2018 Diamond Technology Reviews
Entra Remote PHY Monitor takes a top award in the Monitoring & Analysis Category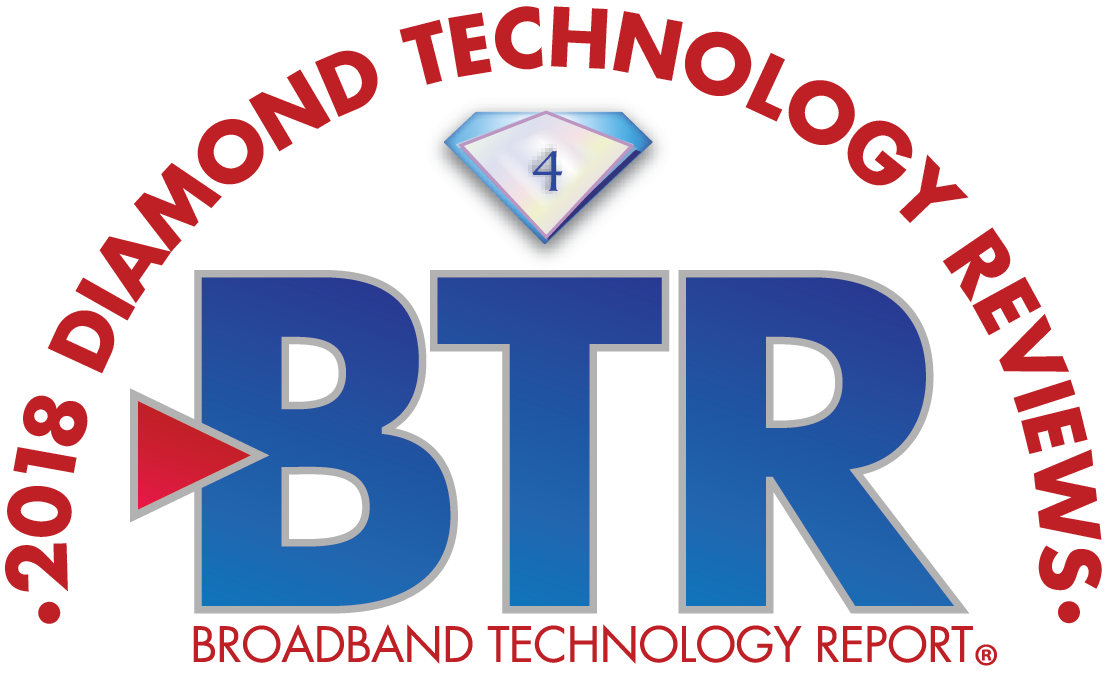 VICTORIA – (October 22, 2018) – Vecima Networks Inc. (TSX:VCM), an experienced designer and manufacturer of innovative technology solutions, is proud to announce that its Entra Remote PHY Monitor has been honored with a four diamond rating in the BTR (Broadband Technology Report) 2018 Diamond Technology Reviews. The award was announced at the cable telecommunications industry's biggest event, SCTE's Cable-Tec Expo in Atlanta, Georgia.
"One of the biggest missing pieces of the DAA use cases is how to monitor and manage the physical equipment," stated one of the judges. "The Entra Remote PHY Monitor fills this gap and should be of great interest to anyone moving into the RPHY deployment world."
"We're delighted that Vecima's deep commitment to developing powerful solutions for the distributed access ecosystem continues to be recognized by our industry peers," said Sumit Kumar, President and CEO of Vecima Networks.
Vecima's Entra Remote PHY Monitor collects, stores, and presents RPD configuration and operational data in a simplified, clear, and consistent way providing MSOs with actionable insight into their RPD deployments. Consolidating RPD monitoring capabilities into a vendor-agnostic system empowers our customers to have smooth DAA rollouts, reduce operational expenses, and ensure their HFC network is operating at peak capacity.
The Entra Remote PHY Monitor continues Vecima's strategy for DAA interoperability by providing a vendor-agnostic monitoring solution for Remote PHY devices. By acting as an auxiliary CCAP core, the Entra Remote PHY Monitor provides a complete view of Remote PHY devices across multiple hubs.
Vecima will be at Booth 623 at SCTE's Cable-Tec Expo 2018 in Atlanta, Georgia. To learn more about Vecima's award-winning products, please visit www.vecima.com.

About Broadband Technology Report
Broadband Technology Report (BTR), is the cable and telecom industry's premier source for product and technology news, and is the most successful and fastest growing online outlet for product information and deployments; reviews and rankings; technology expertise; and buyer/seller facilitation. Broadband Technology Report's portfolio includes online, print and video assets, all designed to help network operators build, upgrade and maintain high-performance communications networks. Broadband Technology Report, backed by more than 70 years of combined industry experience, delivers its email, online, print and video production services to more than 20,000 subscribers. If you are interested in subscribing, consult broadbandtechreport.com/subscribe.
About the Diamond Technology Review program
The Broadband Technology Report Diamond Technology Reviews ("the Diamonds") is a renowned industry program that was developed to recognize some of the top products and solutions available to the cable industry as determined by a stellar panel of cable telecommunications engineering experts. Engineering executives from Time Warner Cable, Bright House Networks, Suddenlink Communications, Comcast, Charter and Cox, and several expert consultants, were among the third-party judges for the 2018 "Diamonds." Every year, Broadband Technology Report invites vendors to submit written information about products/solutions that have been released or upgraded since the previous year's SCTE Cable-Tec Expo (October 2017). Criteria used in the Diamonds rankings include, first and foremost, unique technology or application thereof, innovation, ease-of-use, efficiency, reliability and contribution to profitability.
About Vecima Networks
Vecima Networks Inc. (TSX:VCM) is a globally recognized leader in creating breakthrough technology solutions that empower network service providers to connect people and enterprises to information and entertainment worldwide. Vecima products for the cable industry allow service providers a cost-effective Last Mile Solution® for both video and broadband access, especially in the demanding business services market segment. Vecima's Video Content Delivery and Storage business, operated under the Concurrent brand, includes solutions and software for industries and customers that focus on storing, protecting, transforming, and delivering high value media assets. Vecima also provides fleet managers the key information and analytics they require to optimally manage their business under the Contigo, NERO Global Tracking, and FleetLynx brands. For more information, please visit our website at www.vecima.com.
Vecima Networks
Investor Relations
Tel: 250-881-1982
Email:
Back to all Press Releases