Network Evolution
for a Competitive Edge
Flexible, ready-to-deploy-broadband and video solutions to evolve your network and drive your business forward.
Network Access
Scalable, open, and flexible cable access and fiber access networks that meet the 10+ Gbps bandwidth demands of tomorrow
Video Streaming
Software solutions that protect, transform, and deliver video with the highest quality and reliability
Commercial Video
Efficient, cost-effective, and secure delivery of bulk video services to commercial properties
Vecima at the 2023 SCTE® Cable-Tec Expo
Watch BTR's Editor in Chief, Sean Buckley interview Vecima's Chief Operating Officer, Clay McCreery about the future technology offerings from Vecima.
Global Leader
2 years in a row
Vecima Networks awarded Global Market Share Leader in Remote Optical Line Terminals and Remote MACYPHY 2 years in a row! Learn more about our award-winning product offerings.
Learn More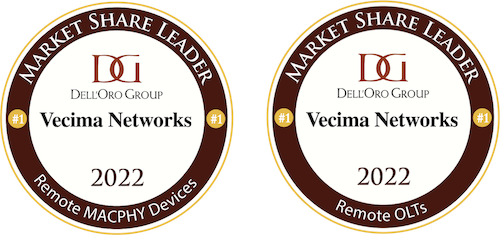 50TB
PER SECOND OF STREAM CAPACITY