Correction to Vecima News Release and MD&A

VICTORIA – (September 29, 2017) – In the news release "Vecima Reports Q4 and Fiscal 2017 Results" dated September 28, 2017 the Adjusted Earnings Per Share in the Financial Highlights table should read $0.00 for Q4 fiscal 2017 and $0.40 for the full year fiscal 2017 rather than $0.03 for Q4 fiscal 2017 and $0.35 for the full year fiscal 2017 as originally issued. The corrected table from the news release is presented below.
FINANCIAL HIGHLIGHTS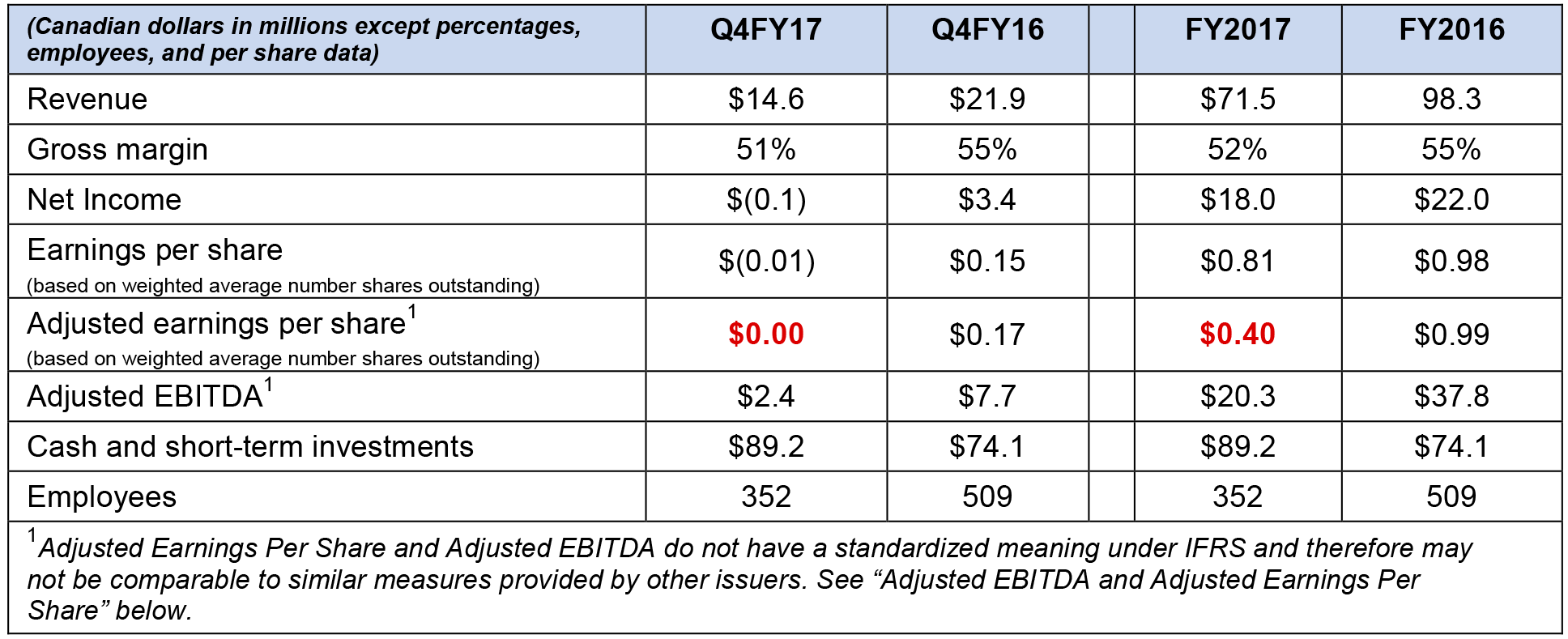 In addition, to correct this same clerical error in the company's Annual MD&A filed September 28, 2017, the company has today re-filed its Annual MD&A for the period ended June 30, 2017. For the ease of the reader the corrections are found on pages 6 and 7 of the MD&A.

About Vecima Networks
Vecima Networks Inc. (TSX: VCM) is a globally recognized leader in creating breakthrough technology solutions that empower network service providers to connect people and enterprises to information and entertainment worldwide. Vecima products for the cable industry allow service providers a cost-effective Last Mile Solution® for both video and broadband access, especially in the demanding business services market segment. Vecima also provides fleet managers the key information and analytics they require to optimally manage their business under the Contigo, NEROglobal, and Fleetlynx brands. More information is available at our website at www.vecima.com.
Adjusted EBITDA and Adjusted Earnings Per Share
Adjusted EBITDA and Adjusted Earnings Per Share do not have a standardized meaning under IFRS and therefore may not be comparable to similar measures provided by other issuers. Accordingly, investors are cautioned that Adjusted EBITDA or Adjusted Earnings Per Share should not be construed as an alternative to net income, determined in accordance with IFRS, as an indicator of the Company's financial performance or as a measure of its liquidity and cash flows. For a reconciliation of Adjusted EBITDA or Adjusted Earnings Per Share, investors should refer to Vecima's Annual Management's Discussion and Analysis for the fiscal year ended 2017.
Forward-Looking Statements
This news release contains "forward-looking information" within the meaning of applicable securities laws. Forward- looking information is generally identifiable by use of the words "believes", "may", "plans", "will", "anticipates", "intends", "could", "estimates", "expects", "forecasts", "projects" and similar expressions, and the negative of such expressions. Forward-looking information in this news release include the following statements: Entra family is attracting industry attention and gaining momentum to reach into different segments of the vast new global market that is emerging for DOCSIS 3.1 solutions; upgrades to Vecima's legacy products are intended to support revenue opportunities for legacy product sales in fiscal 18; Vecima anticipates a year of transition in fiscal 2018 as the North American cable industry prepares for the new DOCSIS 3.1 standard; field trials of various components of Vecima's new Entra family of DOCSIS 3.1 products are expected to commence in calendar year 2018; the plans and priorities of major MSOs continue to evolve, making it difficult to project timelines with certainty; demand for some of Vecima's legacy products are expected to continue to taper off as market saturation is reached and customers focus on next generation products and technologies, the Company sees areas of continued strength; sales of TC600E products are expected to pick up in the first half of fiscal 2018 as a key customer resumes ordering activity following completion of a significant merger; the update to our DVAP platform to support DAA has progressed and the OEM customer has taken delivery of their first set of upgrade licenses; the recent introduction of the Terrace DVB provides new opportunities in international markets; Vecima sees opportunities to supply new network video platforms in support of key customers' transition to IP centric platforms; management expects fiscal 2018 to be a year of continued investment and development as it positions Vecima for industry leadership in both its existing markets and the emerging DOCSIS 3.1 space; Vecima is well positioned to pursue its product strategies, while also continuing to assess attractive acquisition opportunities that could provide rapid access to technologies and help drive the Company's growth and success.
In connection with the forward-looking information contained in this news release, Vecima has made numerous assumptions, regarding, among other things: we will continue to pay dividends; that MSOs continue to upgrade to all- digital networks; that Vecima is able to continue its relationships with its few large customers; we are able to develop new products for customers; competition that serves the same market(s) will not have an adverse effect on the business; we are able to adapt to technological changes – designing to new standards and competing with new products; third party contractors are able to deliver on time and budget; we will be able to deliver based on the terms of our key contracts; currency fluctuations do not adversely affect Vecima; larger cable operator budgets are not static; suppliers will provide parts in a timely fashion; Vecima manages its business and its growth successfully; Vecima does not experience production capacity constraints; and the rationalization of operations could cause our operating results to fluctuate. While Vecima considers these assumptions to be reasonable, these assumptions are inherently subject to significant uncertainties and contingencies.
A more complete discussion of the risks and uncertainties facing Vecima is disclosed under the heading "Risk Factors" in the Company's Annual Information Form dated September 25, 2017, as well as the Company's continuous disclosure filings with Canadian securities regulatory authorities available at www.sedar.com. All forward-looking information herein is qualified in its entirety by this cautionary statement, and Vecima disclaims any obligation to revise or update any such forward-looking information or to publicly announce the result of any revisions to any of the forward-looking information contained herein to reflect future results, events or developments, except as required by law.
Vecima Networks
Investor Relations
Tel: 250-881-1982
Email:
Back to all Press Releases