Vecima Reports Q2 Fiscal 2017 Results
Second quarter financial results in line with expectations
Excellent progress on development of Entra and related products
Sale of YourLink business successfully completes monetization of non-core assets
VICTORIA – (February 9, 2017) – Vecima Networks Inc. (TSX:VCM), an experienced designer and manufacturer of innovative technology in the broadband equipment market, today reported financial results for the three and six months ended December 31, 2016.
"The second quarter unfolded as we anticipated," said Sumit Kumar, Vecima Networks' President and CEO. "Total sales and margins were similar to Q1 2017 levels as our current products continued to meet the needs of customers, and we made excellent progress on Entra, our next generation DOCSIS 3.1 platform. We are on track to begin lab trials of Entra with a major MSO customer in the coming months and we anticipate field trials will commence in the first six-to-nine months of calendar 2017. I am pleased to report that we are now underway on development of two new additional products in the Entra Family based on customer requirements. These new products are representative of the significant potential to expand the Entra ecosystem into a broader product family with multiple applications, with one of the new products being commercially available as early as mid-calendar 2017."
"Subsequent to the quarter end, we also announced an agreement to sell the remaining assets of our YourLink business based in Saskatchewan for total proceeds of $28.75 million. This sale marks the conclusion of the company's strategy of monetizing non-core capital assets, including the sale of a portion of our real estate, radio spectrum, and both BC Cable and YourLink, thereby creating significantly greater shareholder value and cash. Our focus remains on growing our core technology businesses, and with an exceptionally strong financial position, we are well positioned to pursue this growth both organically and through continued strategic acquisitions."
FINANCIAL HIGHLIGHTS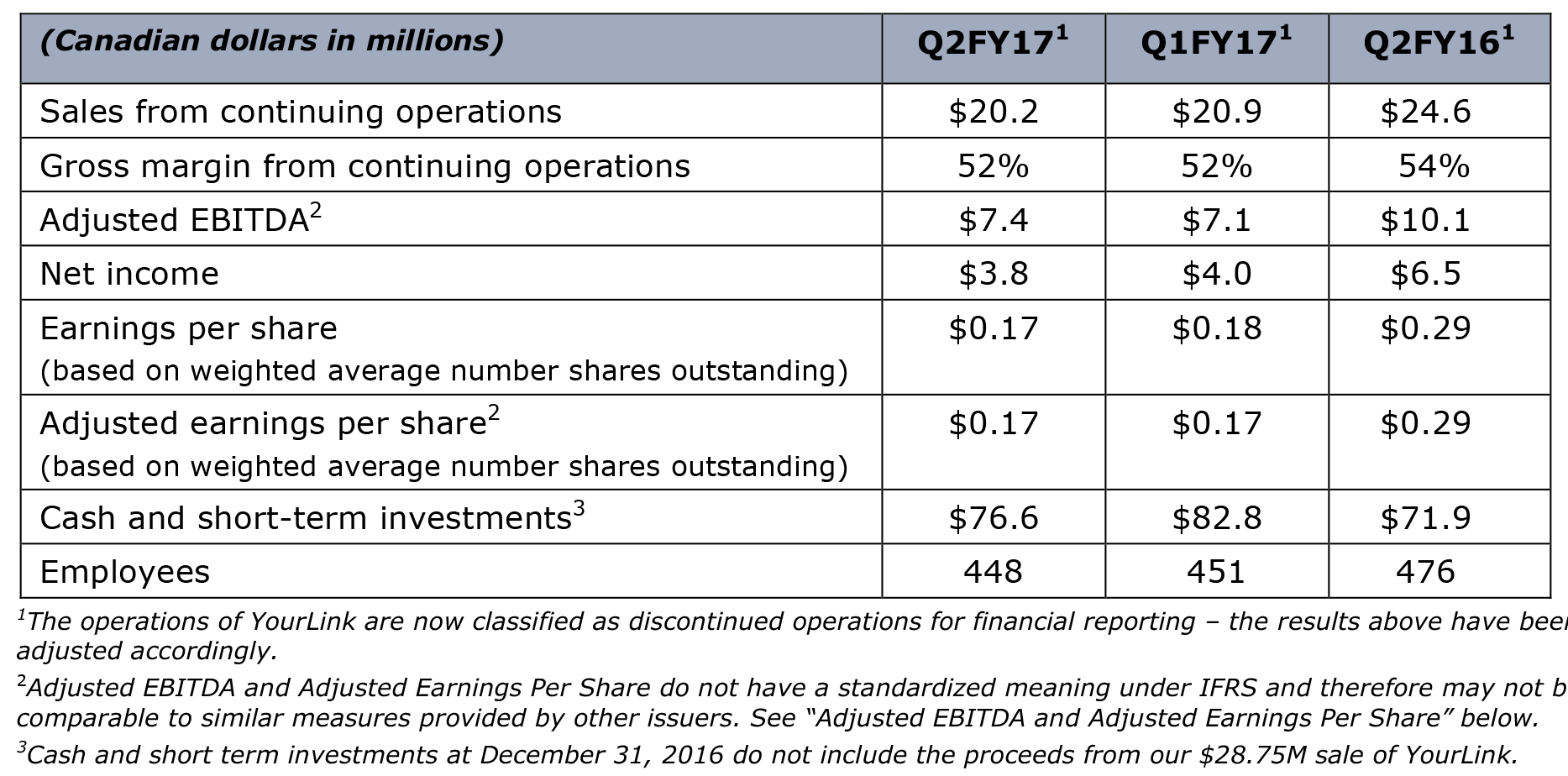 In line with expectations and excluding YourLink, Vecima generated total sales of $20.2 million in the second quarter of fiscal 2017, an 18% decrease from $24.6 million in the same period of last year, but similar to total sales of $20.9 million generated in Q1 fiscal 2017.
Video and Broadband Solutions sales were $18.8 million, compared to $24.3 million in Q2 fiscal 2016.
Telematics sales increased significantly to $1.4 million in the second quarter, from $0.2 million in Q2 2016, reflecting the positive impact of the Contigo Systems acquisition.
Normal Course Issuer Bid and Dividend
On October 25, 2016, Vecima filed a notice of intention with the Toronto Stock exchange (the "TSX") to acquire for cancellation, by way of normal course issuer bid, up to 600,000 Common Shares of the Company. This represented approximately 2.7% of the issued and outstanding Shares and approximately 9.7% of the total public float of Vecima. As at December 31, 2016, the Company had acquired 34,500 Vecima shares for cancellation by way of normal course issuer bid.
As previously reported, Vecima's Board of Directors declared a quarterly dividend of $0.055 per share for the period. The dividend will be payable on March 20, 2017 to shareholders of record as at February 27, 2017.
OUTLOOK FOR FISCAL 2017
As a result of the sale of YourLink, our Outlook for fiscal 2017 has been revised to remove the financial results of YourLink operations previously included in our 2017 Outlook. Additionally, we have revised the top end of our sales and gross margin targets for continuing operations, taking into account our visibility into the second half of the fiscal year. Our Adjusted EBITDA is unchanged aside from the revision for discontinued operations. For the fiscal 2017 year, we anticipate:

CONFERENCE CALL
A conference call and live audio webcast will be held today, February 9, 2017 at 1 p.m. ET to discuss the Company's second quarter results. Vecima's unaudited consolidated financial statements and management's discussion and analysis for the three months and six months ended December 31, 2016 are available under the Company's profile at www.sedar.com, and at www.vecima.com/financials.
To participate in the teleconference, dial 1-800-319-4610 or 1-604-638-9020. The webcast will be available in real time at services.choruscall.ca/links/vecima20170209.html and will be archived on the Vecima website at www.vecima.com/shareholder-events.

About Vecima Networks
Vecima Networks Inc. (TSX:VCM) is a globally recognized leader in creating breakthrough technology solutions that empower network service providers to connect people and enterprises to information and entertainment worldwide. Vecima products for the cable industry allow service providers a cost- effective Last Mile Solution® for both video and broadband access, especially in the demanding business services market segment. Vecima also provides fleet managers the key information and analytics they require to optimally manage their business under the Contigo, NEROglobal, and Fleetlynx brands. More information is available at our website at www.vecima.com.
Adjusted EBITDA and Adjusted Earnings Per Share
Adjusted EBITDA and Adjusted Earnings Per Share do not have a standardized meaning under IFRS and therefore may not be comparable to similar measures provided by other issuers. Accordingly, investors are cautioned that Adjusted EBITDA or Adjusted Earnings Per Share should not be construed as an alternative to net income, determined in accordance with IFRS, as an indicator of the Company's financial performance or as a measure of its liquidity and cash flows. For a reconciliation of Adjusted EBITDA or Adjusted Earnings Per Share, investors should refer to Vecima's Management's Discussion and Analysis for the second quarter of fiscal 2017.
Forward-Looking Statements
This news release contains "forward-looking information" within the meaning of applicable securities laws. Forward-looking information is generally identifiable by use of the words "believes", "may", "plans", "will", "anticipates", "intends", "could", "estimates", "expects", "forecasts", "projects" and similar expressions, and the negative of such expressions. Forward-looking information in this news release include the following statements: to begin lab trials of Entra with a major MSO customer in the coming months; new products being commercially available as early as mid-calendar 2017; to continue pursuing our growth strategy, which includes continued development of our next-generation broadband access platform and the continued pursuit of acquisition opportunities that meet our strategic priorities; and the financial Outlook for 2017.
In connection with the forward-looking information contained in this news release, Vecima has made numerous assumptions, regarding, among other things: we will continue to pay dividends; that MSOs continue to upgrade to all-digital networks; that Vecima is able to continue its relationships with its few large customers; we are able to develop new products for customers; competition that serves the same market(s) will not have an adverse effect on the business; we are able to adapt to technological changes – designing to new standards and competing with new products; third party contractors are able to deliver on time and budget; we will be able to deliver based on the terms of our key contracts; currency fluctuations do not adversely affect Vecima; larger cable operator budgets are not static; suppliers will provide parts in a timely fashion; Vecima manages its business and its growth successfully; Vecima does not experience production capacity constraints; and the rationalization of operations could cause our operating results to fluctuate. While Vecima considers these assumptions to be reasonable, these assumptions are inherently subject to significant uncertainties and contingencies. Additionally, there are known and unknown risk factors which could cause Vecima's actual results, performance or achievements to be materially different from any future results, performance or achievements expressed or implied by the forward-looking information contained herein. Known risk factors include, among others: future quarterly dividends will be subject to approval of the Board of Directors; Vecima derives a substantial part of its revenue from a few large customers; Vecima may be unable to deliver products associated with key contracts; failure to manage Vecima's business or its growth successfully may adversely affect its operating results; if Vecima cannot meet customers' requirements for manufacturing capacity, sales may suffer; our inability to adapt to technological change, new products and standards could harm our business; if Vecima is required to change its pricing models to compete successfully, Vecima's margins and operating results may be adversely affected; competition from new or existing technologies may adversely affect Vecima's business; Vecima's reliance on third-party suppliers and contract manufacturers reduces its control over its performance; currency fluctuations may adversely affect Vecima; the budgeting cycles of larger cable operators can also result in quarter-to-quarter variability in customer orders, while availability of parts and production capacity can influence the timing of product deliveries; and our operating results are expected to fluctuate.
A more complete discussion of the risks and uncertainties facing Vecima is disclosed under the heading "Risk Factors" in the Company's Annual Information Form dated September 26, 2016, as well as the Company's continuous disclosure filings with Canadian securities regulatory authorities available at www.sedar.com. All forward-looking information herein is qualified in its entirety by this cautionary statement, and Vecima disclaims any obligation to revise or update any such forward- looking information or to publicly announce the result of any revisions to any of the forward-looking information contained herein to reflect future results, events or developments, except as required by law.
Vecima Networks
Investor Relations
Tel: 250-881-1982
Email:

Back to all Press Releases