CIBC – Flight To Safety In Tech; What Names Work Best?

On MONDAY AUGUST 24th after the 768.5 point hit to the TSX, we decided to take a look at which of our technology names under coverage were most attractive to hold in these erratic markets. Despite the bounce back later in the week, the TSX remains down roughly 5% for the month of August and the NASDAQ down 6%.
The metric we used to determine the names most ready for a quick bounceback was free cash flow yield, defined as the current year's free cash flow divided by its enterprise value or FCF/EV. If these yields are indeed correct, investors will want to hold those companies with higher yields due to their superior cash generation, despite these volatile markets. We expect the superior yields will ultimately help to stabilize and then move the company's respective stock prices higher. We decided to look at the yields for both our forecasts and consensus street expectations and compare the two.
Our takeaway from this exercise was Vecima, Celestica and Kinaxis scored best. This is certainly consistent with our views on these three companies. We were also pleased to see that Mitel, Redknee and Sierra Wireless are also looking good for 2016. We recommend that our readers use this quick exercise as a screen to help them focus on the right opportunities in these volatile markets. See below for the results.
Free Cash Flow Yields For Technology Companies Under Coverage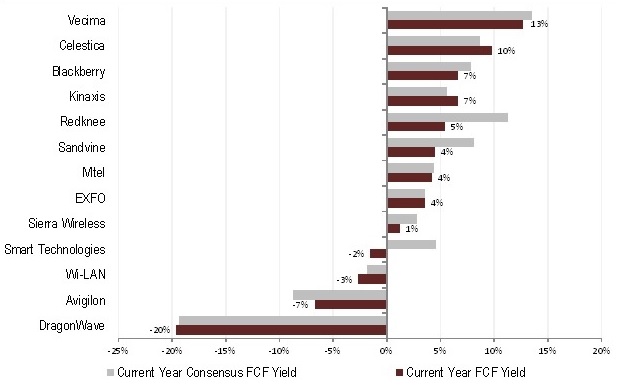 With a 13% yield on 2015 free cash flow, Vecima leads the pack. We believe the stock still has room to move higher with an anticipated 15% free cash flow yield in fiscal 2016 at current EV levels.
Celestica is currently sitting at a 10% free cash flow yield. At current EV levels, we forecast 14% FCF yields in 2016 and believe it provides good support for the current price.
After an outstanding Q2, we expect Kinaxis to see a 6.6% FCF yield in 2015, driven by a bump in deferred revenue from a large long-term contract win. While we forecast this to come down 3.6% in 2016, this yield would still be above the likes of salesforce.com (3.1%), ServiceNow (2.5%) and Workday (0.6%). Remember its growth rate has just started to pick up. We expect this trend will continue to positively impact the company's stock price. Cloud investors should recall that salesforce.com has been benefiting from 50% annual growth for over 10 years.
Redknee – After a disappointing 2015 year-to-date, we expect a rebound from FCF yield of about 5% in 2015 to 12% in 2016. The improved operating leverage next year should help move the stock higher.
Sandvine – We do not expect the company's free cash flow yield of 4% to expand significantly in fiscal 2016 due to rising operating expenses to support its growth plan. Therefore we remain neutral on the stock.
Mitel – While at a FCF yield of 4% in 2015, roughly flat versus 2014, we expect this figure to jump to over 11% at the current EV, driven by Mavenir's growth and Aastra synergies through out 2016.
EXFO – The company's FCF yield is 3.5% after its run up in price on Thursday. While we expect this to trend higher with restructuring, there are enough question marks on the top line where we believe there are other stocks that could make more sense in the current market.
Sierra Wireless – Despite tracking to 15%+ revenue growth in 2015, its free cash flow yield is less than 1%, driven by negative impacts in net working capital. This compares to FCF yields of 4.6% in 2014 and a forecasted 10% yield in 2016 due to improved operating leverage.
It should be noted that Avigilon's negative -7% FCF is mostly a result of a $40 million payment that will be made later this year for the purchase of its new downtown Vancouver head office along with a $18 million patent purchase earlier this year. Excluding these transactions its free cash flow yield for the year would be 2%, moving to 12% next year.
Todd Coupland, CFA
416-956-6025
Todd.Coupland@cibc.ca
Robin Manson-Hing
416-594-7232
Robin.Manson-Hing@cibc.ca
Back to all Press Releases