Vecima Reports Q3 Fiscal 2014 Results
Highest Gross Margin and Cash Balance in the Company's History
VICTORIA – (May 15, 2014) – Vecima Networks Inc. (TSX:VCM), an experienced designer and manufacturer of innovative technology in the broadband equipment market, today reported financial results for the three months ended March 31, 2014.
"We have delivered exceptional financial performance in Q3 and are extremely pleased that our investments in the best products to meet our customer's needs are paying dividends," stated Sumit Kumar, President and CEO. "With our business services and other solutions continuing to lead important market segments, we've driven our margins and cash balance to new highs as we capitalize on the market strength of these solutions."
FINANCIAL HIGHLIGHTS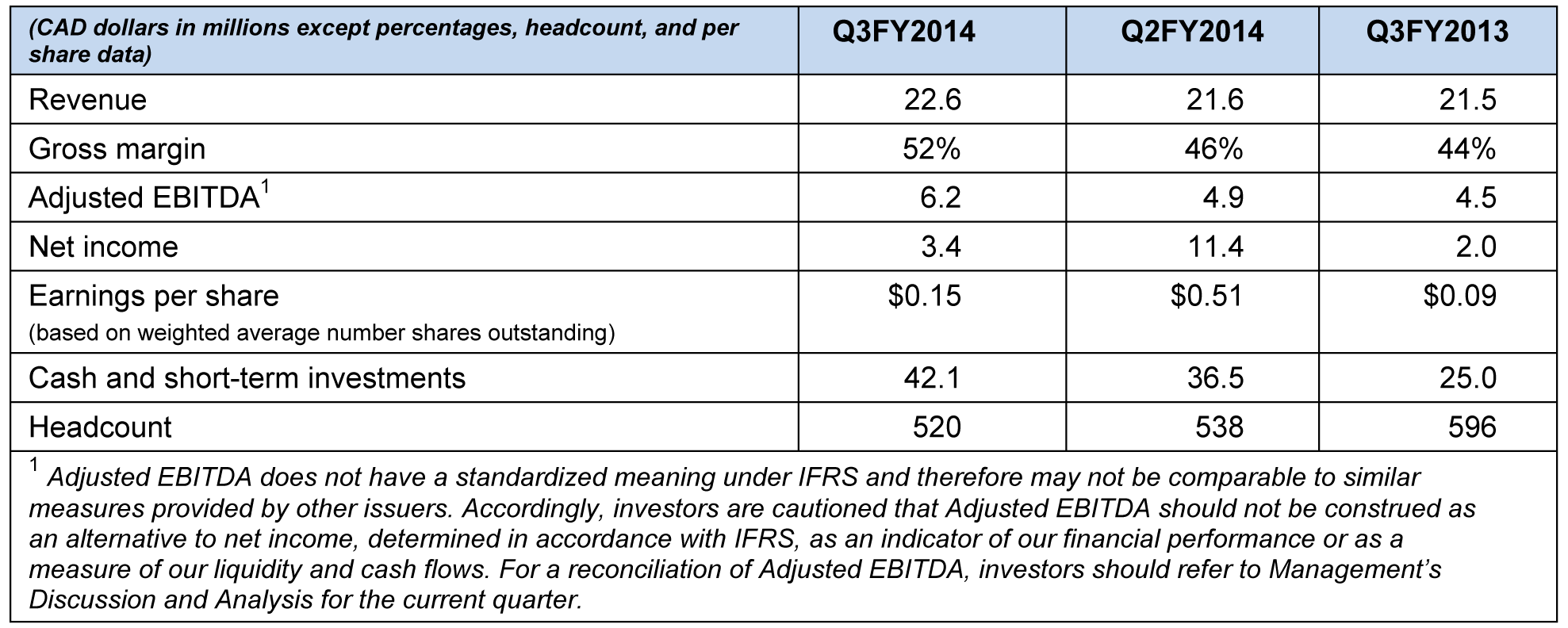 MSO BUSINESS SERVICES
Terrace Family
Sales in the third quarter were $8.1 million compared to $6.6 million in the previous quarter. Results continue to demonstrate the intimate connection the Terrace product line has to the ongoing digitization of the world's cable networks. The new MSO win, announced in Q1, further ramped its uptake in the quarter. Further, in Q3, Vecima captured a new national deployment win at another prominent US cable MSO that is now launching its nationwide all-digital upgrade.
Terrace QAM
Sales in Q3 were $4.1 million. The reduction in sales was largely attributed to the need to prioritize other products that were time sensitive to ship in Q3. Bookings for Terrace QAM were strong leading into Q4. Hospitality remains an exciting new market segment for the cable MSOs. Though an initial deployment ramp in earlier quarters is behind us, we expect customer demand to remain robust as cable operators work to provide upgrades to HD service across the major hotel brands.
CABLE HEADEND
Digital Video Access Platform
During the third quarter, further feedback received from our OEM partner for the solution again reinforced the pressing market need for the product. As a reminder, the platform is required to provide two-way communications to a very widely deployed base of video equipment in residential customer premises. Field trials at most of the top MSOs in North America approached their final stages during our fiscal third quarter. Vecima believes that all final software refinements are complete.
"Because of the ongoing strength of our current product portfolio that squarely solves the needs of cable operators as they upgrade networks today, we are investing in the development of a new suite of platform products. Those new platforms are finely tuned to address the market dynamics that will lead cable MSOs to invest in long term network evolution that maintains their leadership in the digital world," said Sumit Kumar.
CONFERENCE CALL
A conference call and live audio webcast will be held on May 15, 2014 at 1 p.m. ET to discuss the Company's third quarter results. Vecima's unaudited condensed interim consolidated financial statements and management's discussion and analysis for the three months ended March 31, 2014 are available under the Company's profile at www.sedar.com, and at www.vecima.com/financials.
To participate in the teleconference, dial 1-800-319-4610 or 1-604-638-5340. The webcast will be available in real time at services.choruscall.ca/links/vecima140515.html and will be archived on the Vecima website at www.vecima.com/shareholder-events.
About Vecima Networks
Vecima Networks Inc. (TSX:VCM) designs, manufactures and sells products that enable broadband access to cable, wireless and telephony networks. Vecima's hardware products incorporate original embedded software to meet the complex requirements of next-generation, high-speed digital networks. Service providers use Vecima's solutions to deliver services to a converging worldwide broadband market, including what are commonly known as "triple play" (voice, video and data) and "quadruple play" (voice, video, data and wireless) services. Vecima's solutions allow service providers to rapidly and cost-effectively bridge the final network segment that connects the system directly to end users, commonly referred to as "the last mile", by overcoming the bottleneck resulting from insufficient carrying capacity in legacy, last mile infrastructures. Vecima's products are directed at two principal markets: Converged Wired Solutions and Broadband Wireless. The Company has also developed and continues to focus on developing products to address emerging markets such as Voice over Internet Protocol, fibre to the home and IP video. More information is available at our website at www.vecima.com.
Forward-Looking Statements
Certain statements in this press release may constitute forward-looking statements within the meaning of applicable securities laws. All statements other than statements of historical fact are forward-looking statements. These statements include but are not limited to statements regarding management's intentions, belief or current expectations with respect to market and general economic conditions, future sales, future shipping volumes, future cash position, revenue expectations, future costs, future operating performance, plans to sell non-core assets, and plans to continue to explore opportunities to maximize shareholder value, including the possibility of future cash dividends and distributions. These statements are not guarantees of future performance and involve risks and uncertainties that are difficult to predict, and/or are beyond our control. A number of important factors could cause actual outcomes and results to differ materially from those expressed in these forward-looking statements. These factors include, but are not limited to, the current significant general economic uncertainty and credit and financial market volatility and the distinctive characteristics of Vecima's operations and industry and customer demand that may have a material impact on, or constitute risk factors in respect of Vecima's future financial performance, as set forth under the heading "Risk Factors" in the Company's Annual Information Form dated September 26, 2013, a copy of which is available at www.sedar.com. In addition, although the forward-looking statements in this press release are based on what management believes are reasonable assumptions, such assumptions may prove to be incorrect. Consequently, readers should not place undue reliance on such forward-looking statements. In addition, these forward-looking statements relate to the date on which they are made. Vecima disclaims any intention or obligation to update or revise any forward-looking statements, as a result of new information, future events or otherwise, except as required by law.
Vecima Networks
Investor Relations
Tel: 250-881-1982
Email:

Back to all Press Releases