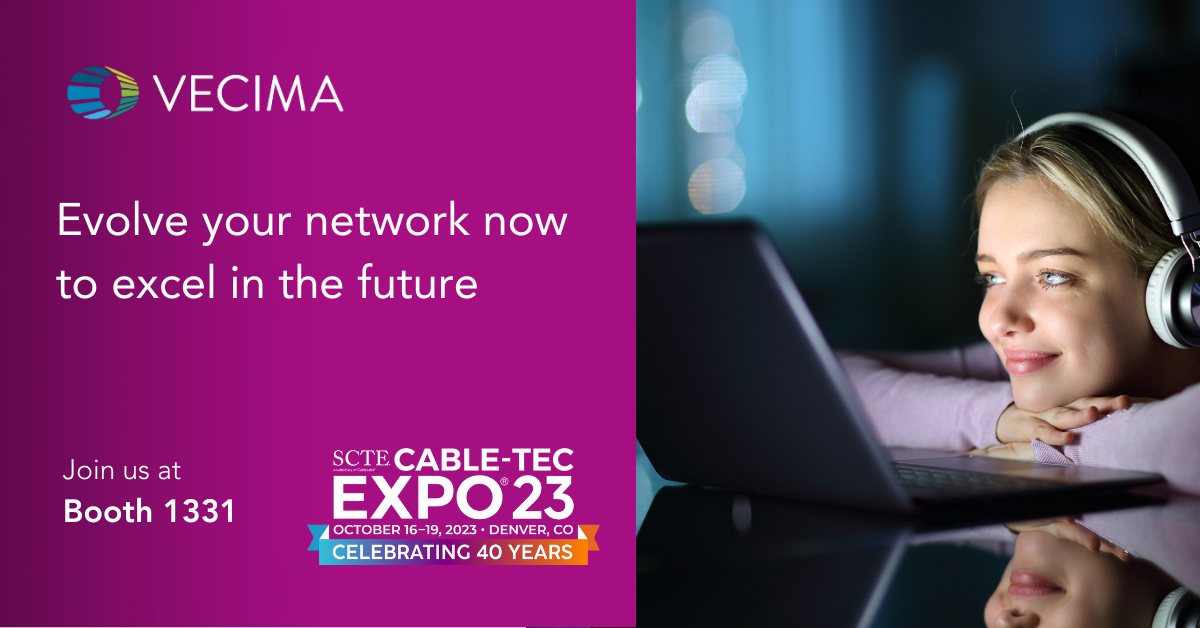 Request a meeting at Cable-Tec Expo


It's a time of great network transformation — the kind that happens once in a generation. Vecima can help chart your path to 10G, 50G, and 100G in a deployment model that's familiar, flexible, and attainable.
Visit Vecima at Booth 1331 to learn about:
How with the Entra® Unified Access portfolio, you can deploy both Distributed Access Architecture (DAA) and PON in any market or hub. It's truly interoperable DAA and the kind of flexibility and capability Vecima is known for.
The Entra® ERM3 Remote PHY Device, interoperable with vCMTS and third-party CCAP cores, can easily upgrade HFC nodes to DAA, reduce installation time and lower operating costs while dramatically increasing broadband capacity. The ERM3 Series is deployable in legacy nodes from Cisco® and CommScope®, including support for full spectrum DOCSIS 3.1, two-downstream services, and two-upstream service groups.
Investment protection with Forever Nodes: Vecima EN8400, EN9000, and SC-2D Access Nodes are upgradable to support DOCSIS® 4.0/1.8 GHz and PON, giving Service Providers a clear and cost-effective path to 10G. 
Flexible PON for Cable Operators, offering symmetrical multi-gigabit speeds now, while preparing your access network for 50G and beyond.  
Our MediaScale™ Streaming solutions enable operators to manage and monetize video delivery while providing the highest quality live and streaming experiences to their subscribers.
Capture more value with targeted advertising and our Dynamic Content solution

Monetize OTT content with Open CDN™

Deliver enterprise and hospitality video efficiently with Terrace and our Community Cache solution for MDUs

Drive revenue faster with Professional Services from the experts
There is power in connectivity. 10G broadband and riveting video experiences allow our customers to deliver innovative new products and services. Together we'll evolve networks to deliver limitless broadband connectivity and entertainment.