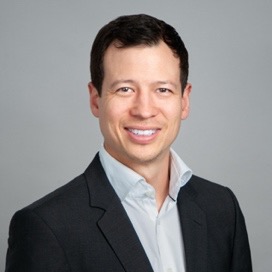 Published by Kai Meisen – Director, Product Management at Vecima Networks Inc.
Terrace IQ And The Video Media Era
So, it's no secret that the past year has been like no other in the business world. Just think of the number of co-workers you have that you have never met face-to-face, but only through video. It's probably at an all-time high.  Actually, you probably can add a fair number of customers and friends to that "never met in person list" as well. This is the era of the video media.
Examples Of The Video Era
Whenever I need to learn how to fix something, I look for a video to see how it is done before I look for a written manual. Yes, It is definitely the era of video media and it surrounds us whether at work or at home. At home, the fundamental use case of broadcast video is still there. Just watching TV is very, very important and vital in today's video media era. It's still how we get our news and keep up with our sports team (especially now when we are unable be to attend in person). Everyone has that TV show that they don't admit they watch but just can't miss each week, but it's not like it has ever been before. In addition, can you say, "working from home"? The increased numbers of people working from home has accelerated the need for data distribution, so operators are investing in networks with the latest technology like IP video and the commercial video segment will surely  follow.
Terrace IQ – Commercial Video Gateway For IP Delivered Content 
Terrace IQ provides the ability to shift to IP delivery and still serve existing commercial customers in industries of their choice and provide bulk video lineups whether it is coax delivery (QAM) or Ethernet (IP) in a single converged next gen product meeting the expectation that broadcast video content is available wherever we go. But IP delivery can come with challenges such as the physical delivery to the customer whether there is DOCSIS, PON, or direct fiber connectivity. Terrace IQ meets those challenges.  As a highly integrated commercial video gateway especially valued by cable operators, Terrace IQ is installed at a customer premises providing demarcation between the service provider's network and the customer's private video network. Whether using SRT or UDP input the Terrace IQ can be used with all of the various IP physical delivery methods. The video once received via IP is decrypted and demultiplexed, then optionally transcoded from MPEG-4 AVC/h.264 to MPEG-2 video to support legacy devices. Video streams are re-multiplexed into a custom channel lineup for the premises and output with QAM modulation directly to televisions without need for set-top boxes. Deployed in large numbers cost-effectively and intelligently built for remote monitoring and management, Vecima's Terrace IQ simplifies operations while maintaining profitability. But, in the era of video media it's not only just about bulk videos for cable operators. 
I am always impressed with how Terrace IQ works with businesses of all sizes enabling seamless migration to next-generation video delivery technologies with minimal hardware investments when migrating away from traditional architectures. But I am not such a fan of the word "enabling" so let's take a look at what I mean by "enabling", and how Vecima's Terrace IQ helps cable operators work with commercial video customers across various customer segments worldwide.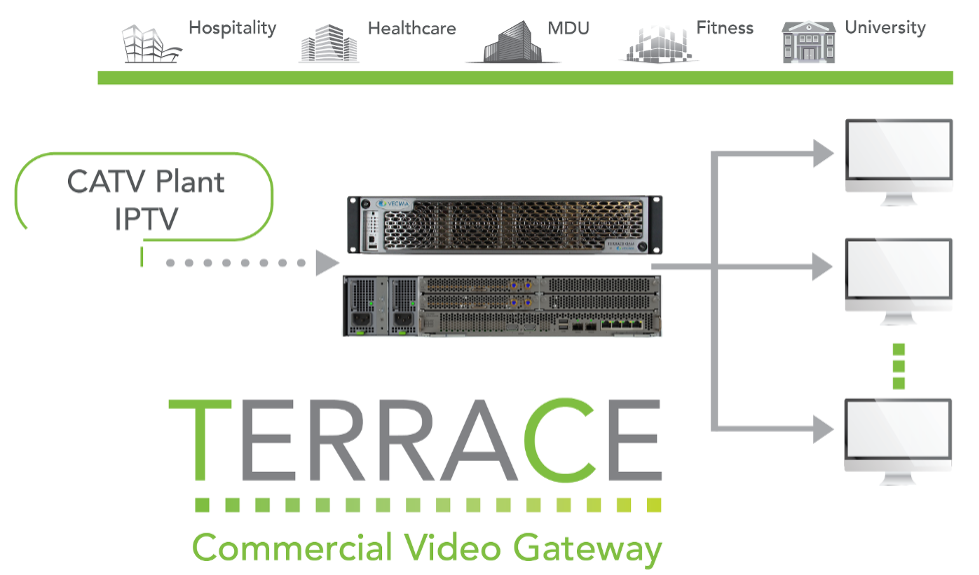 Terrace IQ provides a bulk video lineup for commercial account verticals. These vertical include:
Hospitality such as hotels, inns, resorts
Healthcare such as hospitals, senior living, dialysis centers
MDUs which are apartment and condo complexes, gated communities
Fitness locations whether its standalone gyms or gyms integrated in hotels and apartments
University campus with student housing
When looking specifically at the technical features behind this "enablement" we see that the Terrace IQ has the following features:
Ingest IP content over the 1GbE and 10GbE interfaces
Receive SRT streams with AES-256 encryption
Receive UDP streams with fixed AES or BISS-1 encrypted content
QAM output with four RF output modules for up to 128 QAM channels total.

TQ1030+ modulation and upconversion of 32 QAM channels.

TQ1035+ modulation and upconversion of 32 QAM channels and transcoding of up to 32 HD programs to support legacy TVs.

IP Output for handoff to IPTV systems
Pro:Idiom encryption for securing content delivery in a hospitality setting
Local insertion with HDMI, USB and IP
Scrolling EPG guide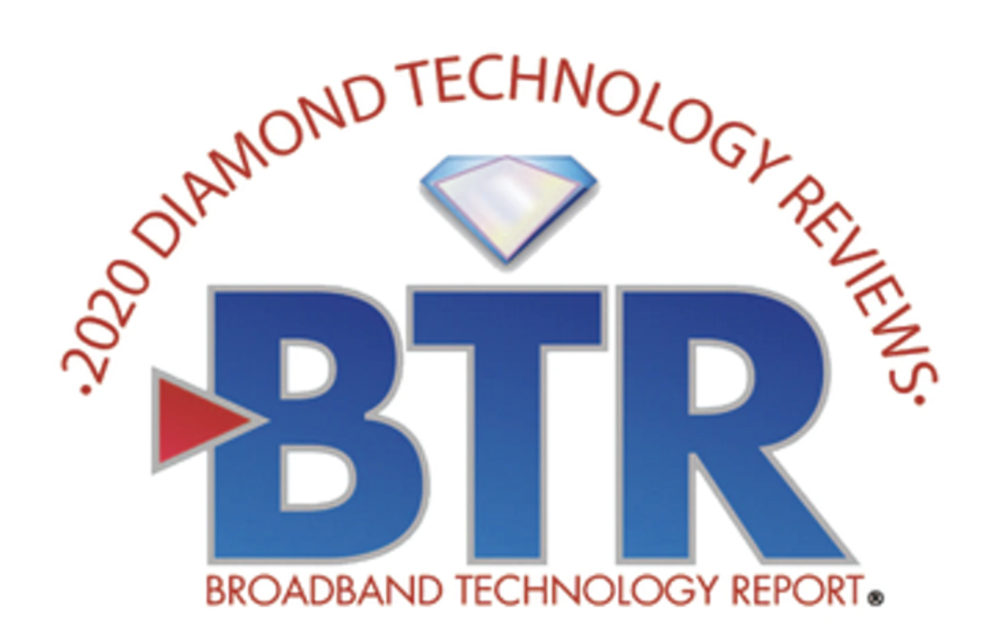 The above features excites me as Vecima has been a part of the commercial video era from the beginning with the launch of the TC1000 QAM to Analog gateway in 2009. We continue to be committed to this space and the Terrace IQ is the latest product helping to break new grounds and we are not the only ones who think this.  Broadband Technology Report (BTR) gave the Terrace™ IQ Commercial Video Gateway a Diamond Technology Review award in 2020.   They said the following:
"This product is a useful tool to have in the service provider deployment tool kit. There are a number of commercial, MDU and planned community deployment scenarios where this solution would be a real problem solver."
If you would like more information on Terrace IQ  and to receive our Terrace IQ data sheet, or our complete Terrace IQ – Installation and Operations Guide, please send a note to David.slovensky@vecima.com